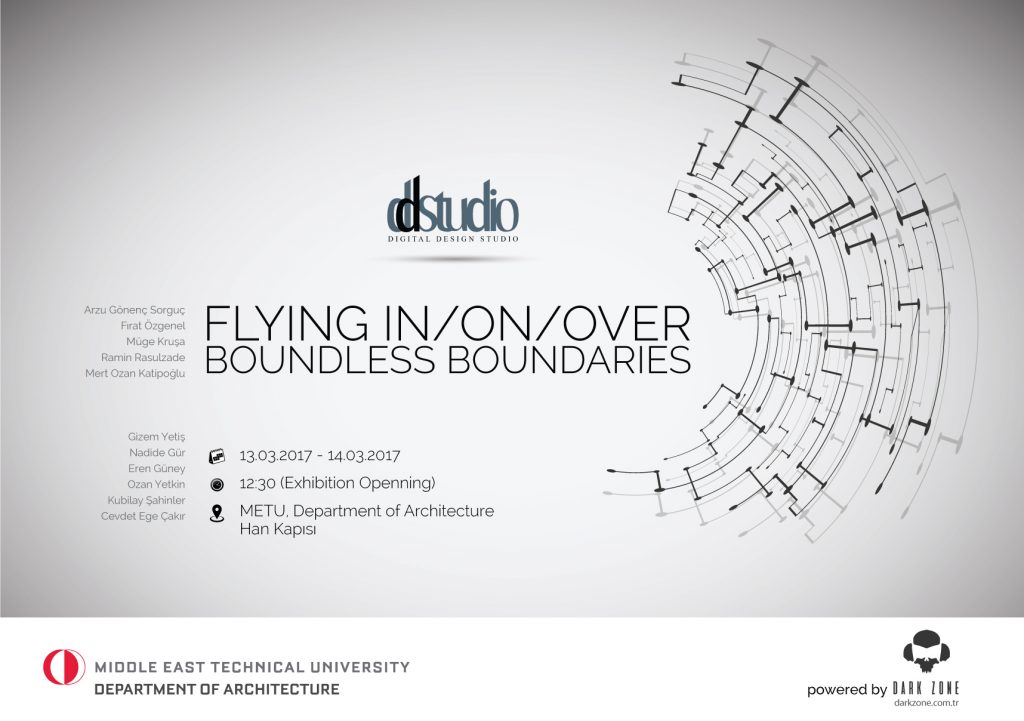 METU | Department of Architecture | Digital Design Studio
Arzu Gönenç Sorguç | Fırat Özgenel | Müge Kruşa Yemişcioğlu | Ramin Rasulzade | Mert Ozan Katipoğlu
Gizem Yetiş | Nadide Gür | Eren Güney | Ozan Yetkin | Kubilay Şahinler | Cevdet Ege Çakır
Flying in/on/over Boundless Boundaries Exhibition will be open between 13-14 March at Faculty of Architecture Han Kapısı. Arch470 | Digital Design Studio aiming to explore relations of cutting edge technologies and computational design, this semester is focused on virtual space & reality discussing dualities such as material/immaterial and form/formation. You are cordially invited to share Virtual Reality Experience.
"Flying in/on/over Boundless Boundaries" isimli, sayısal tasarım|sanal gerçeklik sergisi 13-14 Mart tarihlerinde Mimarlık Fakültesi Han Kapısı önünde açık olacaktır. Son teknolojiler ve sayısal tasarım arasındaki ilişkileri araştıran Arch 470 | Sayısal Tasarım Stüdyosu dersi bu dönem malzeme/malzemesizlik, form/formasyonm gibi ikilikleri tartışarak sanal mekan araştırması ve gerçekliğine odaklanmıştır. Orta Doğu Teknik Üniversitesi, Mimarlık Fakültesinde gerçekleştirilecek olan bu  deneyimine davetlisiniz.